The new WAX 650S from Zyxel is the first access point with a power draw of 31W / 802.3BT POE default. This means that you will not be able to operate with the normal Zyxel Switch line.
Only the XS1930-12HP is able to give enough POE Power to let it work in normal mode.
If you connect the AP to a "normal" POE Switch (with PoE 802.at) you will get following error:
Limited Power Mode

Zyxel NXC 2500
Alternativ you can use the power supply (12V DC). It is not included in the package content. Or you use at PoE Injector with the 802.3BT default.
You can buy them here:
Tools at Work
---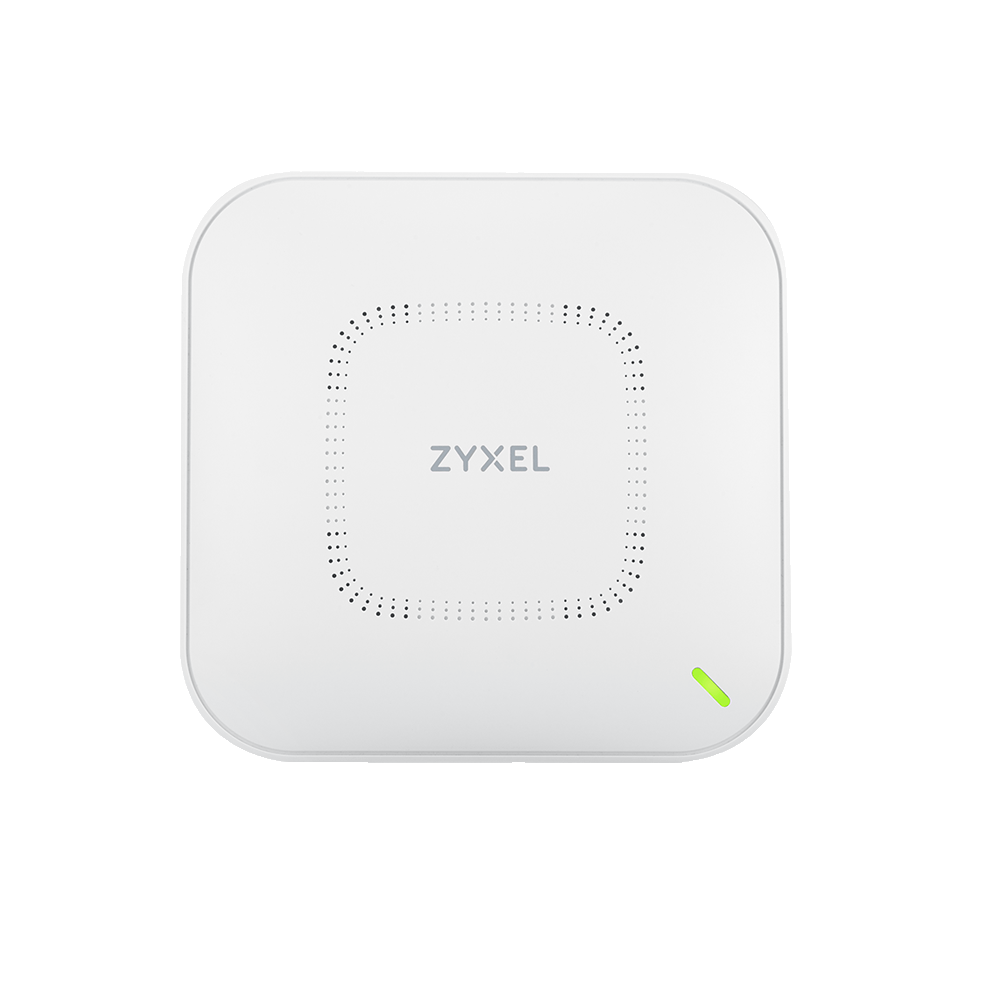 Models
WAX650S
Product name
Description
802.11ax (WiFi 6) Dual-Radio Unified Pro Access Point
Wireless
Standard
IEEE802.11 ax/ac/n/g/b/a
MIMO
MU-MIMO
Wireless speed
2.4GHz: 1150Mbps
5GHz: 2400Mbps
Frequency band
2.4 GHz (IEEE 802.11 b/g/n)USA (FCC): 2.412 to 2.462 GHzEurope (ETSI): 2.412 to 2.472 GHz5 GHz (IEEE 802.11 a/n/ac)USA (FCC): 5.15 to 5.35 GHz; 5.725 to 5.850 GHzEuropean (ETSI): 5.15 to 5.35 GHz; 5.470 to 5.725 GHz
Bandwidth
20-, 40- ,80- and 160-MHz
Conducted typical transmit output power
US (2.4GHz/5GHz): 28/28dBm
EU (2.4GHz/5GHz): 19/26dBm
RF Design
Antenna type
4×4 Smart Antenna
Antenna gain
2.4GHz: Peak Gain 3dBi
5GHz: Peak Gain 5.8dBi
Minimum Receive sensitivity
-105 dBm
WLAN feature
Band Steering
Yes
WDS
Future suppoet
Mesh AP (By License)
Future Support
Mesh AP for multiple SSID with VLAN
Future Support
Smart mesh
Future Support
Fast roaming
Pre-authentication, PMK caching and 802.11k/v/r
DCS (Auto Channel)
Yes
Load balancing
Yes
Security
Wireless Security
WPAWPA-PSKWPA-Enterprise (WPA/WPA2/WPA3)
Access management
L2-isolationMAC filteringRogue AP detectionEAPIEEE 802.1XRADIUS authentication
Networking
IPv6
Yes
VLANs
Yes
WMM
Yes
U-APSD
Yes
DiffServ marking
Yes
Management
Operating mode
Nebula Cloud managedController-managedStandalone
ZON Utility
Discovery of Zyxel switches, APs and gatewaysCentralized and batch configurations IP configuration IP renew Device factory resetDevice reboot Device locating Web GUI accessFirmware upgrade Password configuration One-click quick association with Zyxel AP Configurator (ZAC)
Zyxel AP Configurator
Batch AP configuration Batch AP firmware upgrade Batch AP profile backup
Zyxel Wireless Optimizer
WiFi AP planningWiFi coverage detectionWireless health management
Web UI/ CLI
Yes
SNMP
Yes
Physical Specifications and others
Item
Dimensions (WxDxH)(mm/in.)
230 x 235 x 53.5/9.06 x 9.25 x 2.11
Weight (g/lb.)
1160/2.56
Packing
Dimensions (WxDxH)(mm/in.)
282 x 266 x 79/11.1 x 10.47 x 3.11
Weight (g/lb.)
1490/3.38
Included accessories
Mount plateMounting screws
MTBF (hr)
180,653
Physical Interfaces
Ethernet port
1 x 1/2.5/5Gbps Ethernet (PoE port)1 x 1Gbps Ethernet
Power
802.3BT POE (Maximum power draw: 31W)12V DC input
Environmental Specifications
Operating
Temperature
0°C to 50°C/32°F to 122°F
Humidity
10% to 95% (non-condensing)
Storage
Temperature
-30°C to 70°C/-22°F to 158°F
Humidity
10% to 90% (non-condensing)
Certifications
Radio
FCC Part 15CFCC Part 15EETSI EN 300 328EN 301 893LP0002
EMC
FCC Part 15BEN 301 489-1EN 301 489-17EN55022EN55024EN61000-3-2/-3EN60601-1-2BSMI CNS13438
Safety
Safety EN 60950-1IEC 60950-1BSMI CNS14336-1